I Have One Of These At Home
By Bruce Brincka
Back in the mid 90's, my wife and I had a Shelby clone that we raced with the Shelby Club at Sears Point Raceway, it was a blast. At the same time, we also had a '55 Chevy that we were preparing for the show circuit, the last step was to have the interior done. After a long wait, our turn finally opened up at the shop, in went the '55. Meanwhile, we had our last race of the season, all done, the car was dirty and tired. The big show in South Lake Tahoe was fast approaching and the '55 was our ride there, the excitement was building for both of us. Then that dreaded phone call came, "Bruce, can you come down to the shop, we have a problem." We were thinking that maybe the seat didn't fit or the glass had a problem, were we wrong. Apparently, the shop owner was pulling a car into the shop and the throttle stuck, the only buffer between him and the wall was our '55, ugh. The crash buckled the quarters, along with the front end, what a shock to us!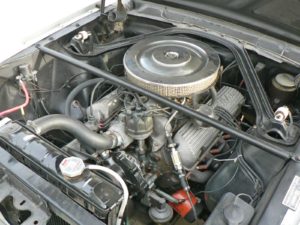 As we were fighting with the insurance company, it was time to go to the show, we packed up and took the dirty, tired Shelby clone – headlights still taped up and tire marks along the lower part of the car. We attended the show and had a great time, in fact as my wife was sitting by the car on Saturday, a nice older gentleman came by and said, "I have one of these at home." Of course we had heard that before from people, then they proceeded to say, "except it's a 6 cylinder, and a different color, and well maybe a different year." My wife spoke to Glenn for about an hour about everything, very nice man. He said you should stop by and see the car sometime. He said his goodbyes and walked away. I came back about then and heard the story, I said let's find him. We ran through the show area looking for him, we finally found him just starting to walk down the street, whew. I said that we don't get up here very often so, could we look at it tomorrow, sure he said.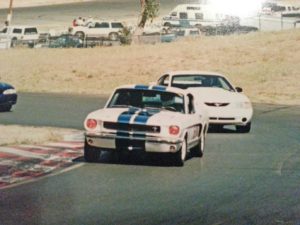 Sunday morning, we drove to Glenn's house, directions were simple, just drive around the east side of the Lake, when you get to the tunnel at Zephyr Cove, I'm the last house before you enter the tunnel on the hill. We found it, what a beautiful view. We knocked on the door and talked a bit, he then said let's look at the car. He opened the garage and there sat a Cadillac, nothing else … I told my wife, "get ready to walk away." He grabbed a small key off the wall and said follow me. We walked around the back of the garage and there was a small shack, maybe 18 feet long and 8 feet wide. He opened the door and there sat an original GT 350 – a torn car cover covered part of the car, the windows were half way down and the interior was covered in dirt. I looked it over (as best I could with about a foot on every side of the car) and was amazed with it. After talking awhile, I said that if he ever needed help getting it running I would love to help, he said that he bought a new battery every year and started the car up, it ran great. It had about 69,000 original miles on it and the drivetrain had never been apart. I asked how he came upon it, apparently in early 1967 Webster Ford in Caruthers, California was going out of business, they had an auction and sold all the inventory, he bid $2,500 on 3 different GT 350's and he won this one. The car was an early auto trans car and used as a demo, and they were too cheap to add the stripes over the top. Once he won this car they asked if he wanted the stripes added, he didn't think that they were worth the $69. Ha Ha.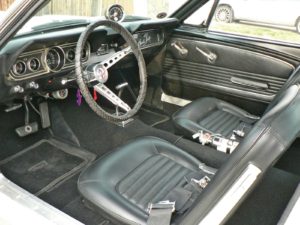 We stayed in touch on the phone and with letters over the next few months, we loved his stories. He was a dam builder and helped with many of California's dam projects, even our little (as he called it) Folsom dam. Finally, one day we got a call, Glenn said that his health was going south and that he was moving to Washington to be with his daughter – would I be interested in his Shelby? I told him yes, but it was out of my price range. We talked about values and he finally said, "here's what I have in the car, could you come up with that?" I was shocked for a minute as I had just told him what it was worth and he throws out a much lower number. I said it may take a while, but I would love to buy it, he said you have 3 days! I panicked as I hung up and searched for hidden money, ha ha. Saturday, we go to see him, he has the car pulled out (with a new battery) and it's ready to go. He asked if I could take the extra parts for the car – hood, trans, wheels, etc. Of course I wanted to help him out so. I said yes. We finished the deal, loaded the parts and took off in a filthy car. As my wife followed in the truck, she said she could only see dust, no car, ha ha. As we were driving to try and find a place to clean the windows, Glenn went flying by us, he was heading to the airport. He wasn't kidding us when he said that he was leaving.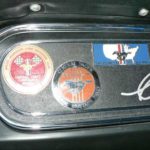 On arrival in the Sacramento area we went to American Mustang to show the car off, I was told that it was a very nice, original car, whew.
Over the years, we have enjoyed the car to the tune of 25,000 miles and done a few tasteful modifications, like adding coil overs to the front and lowering the rear. Overall the car, looks like it did when we purchased it 20+ years ago. This is one of those cars the kids will have to fight over, it's not for sale.
(Note – Bruce is one of the founders of Folsom's Cars and Coffee and one of the Sacramento Swap Meet team of "vendor herders" on set up day … plus he loves anything on four wheels and is always around to help at many auto events).
John Sweeney, Publisher
Garage Snooping: 1966 Mustang G.T. 350