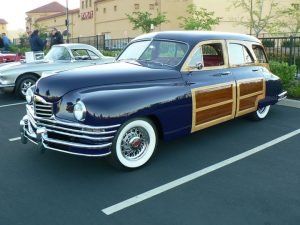 It's NOT A Woody!
You are looking at a rare factory, "Briggs Built," 1948 Packard Station Sedan. (The official name that Packard gave the car was "Station Sedan"). Even more rare, it was restored and rodded 95% by the owner, Mike Williams of Sacramento. Mike only farmed out the paint, gas tank and 4 bar rear set up. The 2000 LS Corvette motor with a 4L60E overdrive transmission and the Ford 9-inch rear, makes this Packard (Woody) a great cruiser. Mike found the Packard at the Sacramento Swap Meet 5 years ago. It was in pretty rough condition, no floors or wood. It came from Oregon via a seller from Stockton. Mike made all of the patterns, and purchased ash wood, and mahogany veneer from Hughes Hardwoods in Rancho Cordova. He did all the woodwork himself and with no previous experience doing woodwork.
The McLean wire wheels were machined down to accept the stock Packard centers so that he could put the original Packard hubcaps on the wire McLean wheels. All of the interior was done by Mike, woodgraining the dash, the leather interior, hidden AC vents in the dash, including a wood steering wheel made using 35 separate pieces of wood bent and shaped to create the outer ring.
It's one amazing rare survivor Woody, thanks to one very skilled hot rodder, not afraid of a challenge.
Mike also believes that "you gotta drive 'em." His 1955 Mercury has seen the U.S.A. with him behind the wheel. Next up is a road trip to Santa Cruz and Santa Barbara with the Packard Station Sedan. I'm sure that he will wow the "Blue Oval" Ford Woody guys.
Garage Snooping: 1948 Packard Station Sedan