By John Sweeney –
Old Car Nut, Caretaker of the Reno-Sacramento Swap Meet & Publisher-in-Training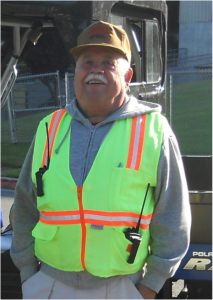 Happy 80th to Dick Grundy! Dick will be celebrating his 80th birthday on Sunday, June 12, along with his 50th Wedding Anniversary. Many will recall Dick at the Reno Swap Meet and Sacramento Swap Meet in charge of security going back to 1987. Dick is still part of the Swap Meet crew and you will see him at the Sacramento Swap Meet this coming July 30. Thanks Dick for all your help and support!
So, just what is a Swap Meet Power Parker? Someone that has a classic car and or hot rod who wants to have a place to park their car and attend the Sacramento Swap Meet and they are also for buyers who want to park on the swap meet grounds.
Event flyers it amazes me the variety that we get … some are really great and some are a train wreck.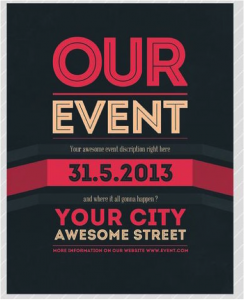 Flyers are created to get a message to potential car participants and spectators. It's not a design contest or a test bed to show someone's artistic skills.
Here are the key elements to be featured on the flyer. I realize that most clubs and organizations are all mostly volunteers and it's hard to get someone to create the flyer, the job falls to someone that gets stuck with creating the flyer and they turn to a fancy design program on their computer. With these tips I hope to assist all the "volunteers" out there.
DATE – Month Day Year
NAME OF EVENT – Be consistent with the name of the event
LOCATION – Include City & Street Address with a zip code
CONTACT INFO – Persons Name, Phone number (with the area code), a simple email address if possible … most people prefer a phone contact number versus email
ARTWORK – It's best to keep it simple and not to overwhelm the flyer. Most people usually use the events T-shirt artwork and while they look neat it's not good to use on a flyer
SPONSORS – Using their logos adds to cluttering the flyer and detract from the MAIN message of the flyer. I know that it's important to give sponsors a visible spot on the flyer, but if you have a huge list it's best to just neatly list them
Please, understand I'm not saying that all the flyers that we get are poor … we get some spectacular ones and then we get some that are missing too much info and we spend hours trying to get the correct info so that it's listed in our Cruisin' News Cruisin' Calendar. Our calendar "is lifted" by many people and other publications. So, if we get it correct the first time, it saves on bad info getting out there and no way to correct it.
The Flyer Test "TFT" – Here is a simple "TFT" (the flyer test) that can be applied to ALL FLYERS. (Feel free to share this with anyone that is stuck with designing a flyer or send me the flyer for a free opinion).
Pin the flyer on the wall at eye level
Stand in front of the flyer about 2 feet away
Put your left hand over your left eye
Then see if you can quickly make out the date, name of event, location and contact number
Think of your flyer as a highway billboard. People only have a few seconds to digest the info. The above test simulates that situation.
And my other BIG REQUEST – Please, give us your event dates as soon as you have it set. Do not wait until you get a flyer made up. Our calendar is used by many clubs and organizations to pick a date for their event. We have saved many events from picking the same date. The only month that is a tricky month to do an event in is always MAY.
And now a plug to do a display ad in the Cruisin' News … a black & white 1/4 page ad costs $140 (full color $290), that ad directly reaches the people that you want to come to your event (they own and love old cars, classics, hot rots, rat rods, mice rods, rot rods and projects). Our award winning graphic pros create the ad free and we double check that it is correct and meets the TFT test plus, we can give you a PDF file of the ad that can be given to a printer, or copy printer like Staples, etc., to make flyers.
---
No DMV paperwork … No problem, but it's gonna cost you …
Donna Leek is back after a few months off. Our "independent" DMV gal is back at work. See her ad on page 25 (in the June 2016 edition of Cruisin News) put this number on the garage wall 530-320-5708. Her email is pro.reg.service@gmail.com. No more dealing with DMV red tape or long lines.
---
In case you haven't heard of The SEMA Action Network, I highly suggest that you join.

It's free and they really provide a great service to the car collectors and hot rod hobby … you can go online and sign up or use a USPS 48 cent stamp.
What Is SAN?
The SEMA Action Network (SAN) is a nationwide partnership between vehicle clubs, enthusiasts and members of the specialty auto parts industry who want to protect their hobby. Founded in 1997, the SAN was designed to help stamp out legislative threats to the automotive hobby and pass favorable laws. The SAN regularly:
Rallies the support of 3,000-plus car clubs, thousands of individual contacts, and 100-plus publications, with an estimated reach of 36 million enthusiasts nationwide, amplifying SEMA's political voice on issues affecting the specialty equipment auto parts industry.
Sends out action alerts to generate an abundance of responses to state and/or federal legislative actions and regulatory proposals. Issues timely updates of legislative and regulatory developments.
The information SAN provides you:
Timely notice of legislative/regulatory developments in your state and nationwide trends.
Sample letters to forward to state legislators urging specific action.
Talking points for conversations and meetings with state legislators.
We hope you will join the SAN, which currently has contacts in all 50 states, the District of Columbia, as well as in Canada. If you would like to become a contact, join SEMA Action Network today!
SEMA Action Network (SAN)
1317 F Street, NW, Suite 500
Washington, DC 20004
909-978-6721
---
Address changes ALERT
If you have moved be sure to send in an address change ASAP to us … Click here to download the form you need.. We rely on the postal computer system to double check all addresses and it verifies your address and the postal computer system can change it when we mail the issues.
---
DMV Legacy Plates
The new DMV Legacy plates … I'm just not impressed with them call me old school, they just don't look right on newer cars. I know that it opened the doors so we could get them on our classics, but just maybe, we should have kept them to certain vintage years. It has also devalued my stock pile of 1963 Black & Gold plates that I was hoping to sell to offset my Medicare bills.
---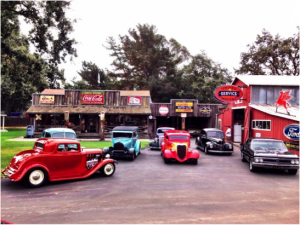 Very sad to report that on April 30, Fred Stokes Ranch in Santa Rosa caught fire.
Fred lost 14 vintage cars and had massive damage to his garage. Fred's place was a roadside attraction on Old Redwood Highway north of Santa Rosa. Fred was not at the ranch when it caught fire and is okay.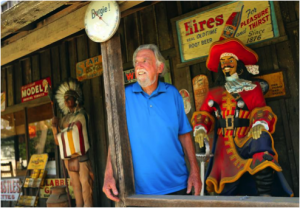 I lost my good friend and Reno Swap Meet partner, Bill Finefrock to a house fire in 2004. I was also a witness to the fire at John Cox's E Street Garage in Sacramento a few years ago. Please, check around your shop, home, and try to be fire safe.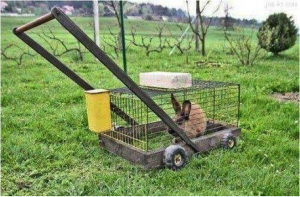 This is my new custom lawn mower … Hippity Hop!
JS
Dings and Dents – June 2016