By John Sweeney –
Old Car Nut, Caretaker of the Reno-Sacramento Swap Meet & Publisher-in-Training
"Game 2" … Sept. 9th, 2017, Second Sacramento Swap Meet at Cal Expo. We've made more changes and additions … some good, some bad, as we move the swap meet from the old Arco Arena to Cal Expo. Overall it was great … our crew and Cal Expo staff worked hard to make it all happen. We know what we have to change and fix for the next one in April 2018. Many of you might remember our first 4 swap meets at the Arco Arena … it was a BIG challenge moving from Reno … we figured it out and had it running smoothly by the 4th swap meet that we held at Arco. A big thank you to everyone who attended and to my super staff. We are in the planning stages for "Game 3," the April 2018 Swap Meet at Cal Expo. We will announce the exact date in early January 2018, as we co-ordinate with other events, so that we don't bump heads and Cal Expo has an open date for us. Many people have said, go back to Arco it had free parking – People there is NO Arco Arena to go back to – it's in ruins, and the property will eventually be sold and used for other purposes. Many people dislike Cal Expo because of the parking and the costs that are necessary to be there. We searched all over to find the right spot and the only one that is large enough and has the best location is Cal Expo for our growth plan. Cal Expo has costs involved that we have no control over. We have a 5 year plan for the growth of the swap meet and it revolves around using the Cal Expo grounds. We hope to be adding assigned vendor spaces, an old car auction, and the University of Rust (classes for the collecting, restoring and customizing of cars … this is a way to bring younger people into the hobby). The days of club run swap meets are pretty much over due to increasing overhead and dwindling staffing by the clubs. I was among the first to grieve the loss of the Sacramento Buick Club Swap Meet in Sacramento, that was under the WX freeway each February. I really looked forward to that swap meet each year. It was held right after the January Turlock Swap Meet. When I was recruited to manage the Reno Swap Meet from Bill Finefrock, we both knew that the small swap meets were disappearing and that we had a mission to keep our swap meet alive. Before Bill's untimely death in January 2004, I promised him that I would carry on the swap meet for him and the loyal hobby. I've had some real challenges to keep it going – lawsuits, and other assorted nuisances. My friends and my family have worked by my side through some real difficult issues. I've selected a team to move the swap meet forward. Like Bill, I've found two young men, who will be able to take the swap meet forward to new levels. I'm impressed with their skills and their love of the hobby. Again, many thanks to you all, (vendors and buyers), who attended the swap meet at Cal Expo this last September. With your help, we will keep working to keep this event alive and growing to support the old car hobby.
---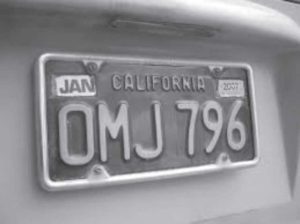 Do you owe back fees because your old car was not on non-op?
NO, you don't!
CA DMV code, 4604(d)3, exempts most old cars from having any back penalties due to not registering vehicles or not placing them in a "non-op" status. Save this code and use it when you get nailed with back fees. Cars 20 years and older qualify and you must be a car collector. I hereby deem you a car collector … DMV does not really state what qualifies as a car collector so, just mark down that you are a car collector on the form to waive those fees. If you call me asking for this code, I will be charging $25 for it … so, write it down on your tool box … I know 5 years from now people will call asking for it just like they still call asking for Donna Leek's phone number … (Please take note – DMV Donna has happily retired).
---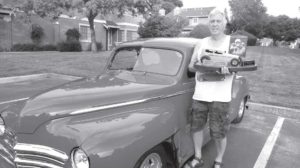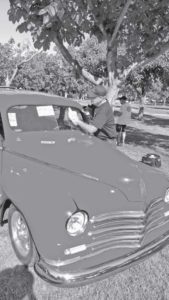 Plymouth Bob Neher, wins The Gary Meadors Memorial Award at the Goodguys West Coast Nationals, August 2018. Bob, who never stays for the awards ceremony on Sunday, was shocked to find out that his Sam Foose built 1948 Plymouth Coupe was the winner. Here are some little known facts about Bob. He was hired by Riebes Auto Parts in Grass Valley in 1983. Also, when I was on vacation in Hawaii a few years ago, Gary Meadors called me looking for someone to get his yellow, Plymouth Coupe ready for a special car show in Dinuba, CA. I gave Gary, Bob's phone number and Bob rushed over to Gary's Garage and made the car ready for the drive to the Dinuba show. And one other note – The guy pictured right washing Bob's coupe windshield is none other than Bart Riebe – I call that a double win! Congrats Mr. Neher!!
---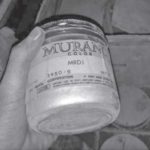 All kinds of crazy stuff crosses my desk each month … a subscriber has a jar of Murano Pearl and asked me, what's it worth? Write me and let me know if anybody needs a jar to do a REAL old time Pearl paint job … by the way this stuff was banned many years ago.
---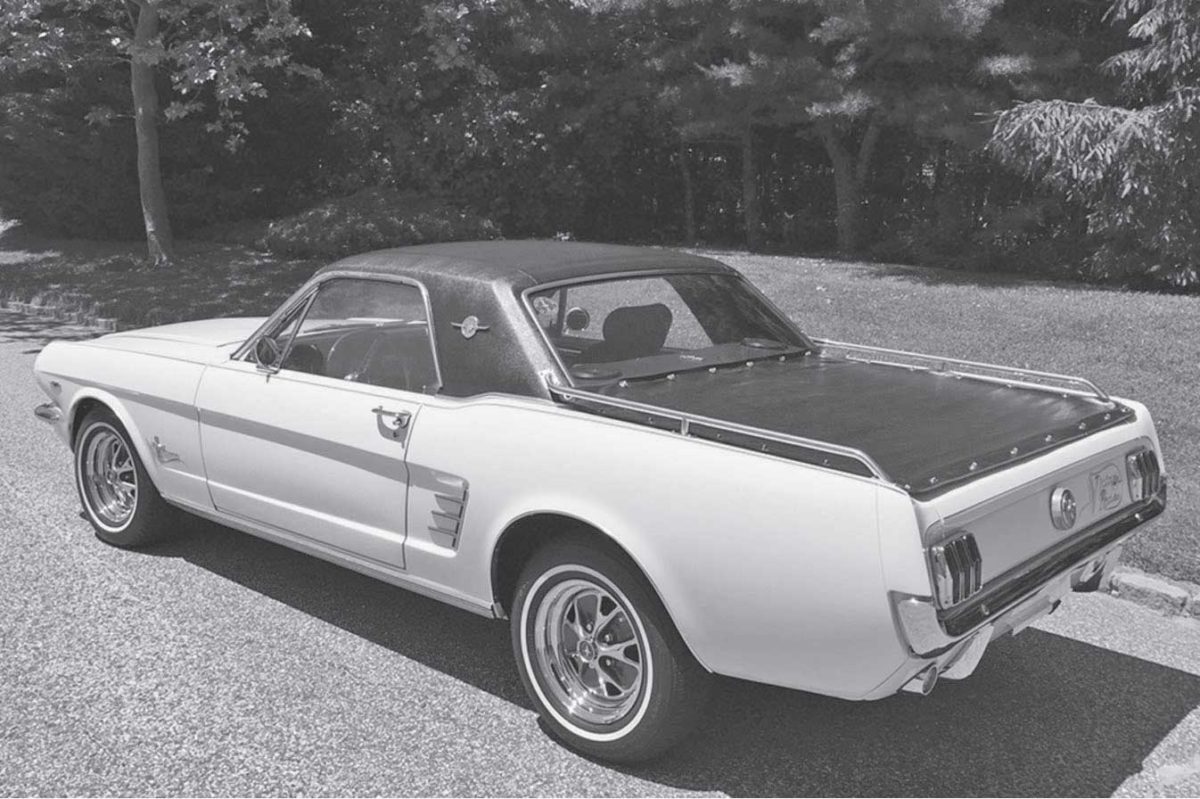 I like Rancheros, but I don't think that Evonne will let me get this one. This 1966 Mustang Coupe Ranchero is one of 50 cars built by Beverly Hills Mustang licensed by Ford, 1 of only 10 sold in the United States. Today, there are only 4 known Beverly Hills Rancheros existing in the U.S. In storage for 30 years, this car is in excellent condition. It's in its original color of Springtime Yellow. The interior is TMI Deluxe Pony R2 and the AC has been installed and disc brakes have been added for safety. Car has its original rebuilt 289ci engine and automatic transmission. The car also has Rallye Wheels, Rallye Pak, fog lights and a vinyl roof. The Ranchero is selling for $89,995. Call 631-283-8819 if you want this cool Ranchero. Hey, if you buy it, I would like to ride in it just one time.
---
Yes, we have Facebook pages for –
1. Cruisin' News
2. Sacramento Swap Meet
3. Reno Swap Meet
4. And my personal one – John Sweeney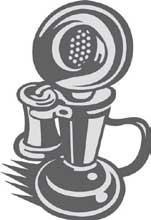 Go ahead and like the pages and send me a friend request (aka subscriber). I'm trying to get up to speed with the new kids coming into the hobby. They are using a thing called Facebook messenger … I finally have emails down pretty good and then they toss this new messenger thing at me. I can't quite figure it out. I asked Mr. Oyler the classic car insurance guy about it and he said that it works great and that my problem was "Operator Error." If that's the case and you message me and I don't respond … Try this piece of equipment please –your pass code is 916-933-0949 – a human will answer.
Heads up – The January Turlock Swap Meet space renewals were just mailed out … make sure that you get them sent back in by the deadline or you will lose the rights to the space(s). Also, one other tip for old guys … you might want to add a younger guy on to the vendor application … just in case … My good friend, Fred Schell (Mr. T-Bird & the Edsel guy) called me in a panic, his January Turlock Swap Meet spaces were in his girlfriend's name and she had passed away. I was able to direct him to the Hanson's, who handled the vendor registration and things were straightened out for him. While talking to the Hanson's, I found out that they will no longer (after the 2018 swap meet) be running the registration for the January Turlock Swap Meet … The Modesto Area A's will be looking for another member to fill that BIG job. The Hanson's did a great job running registration and they will be greatly missed, but they've earned the time off. See you in November at the GoodGuys Pleasanton Swap Meet … not sure about my space numbers yet … we may be at a new corner in the swap meet area.
Enjoy Autumn and Happy Halloween!
JS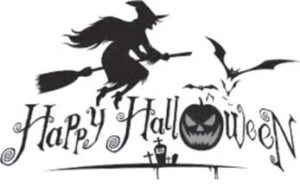 Dings & Dents – October 2017