By John Sweeney –
Old Car Nut, Caretaker of the Reno-Sacramento Swap Meet & Publisher-in-Training
I've been going 98 miles an hour since the beginning of this year … and there are no signs of things slowing down … AND I turn 70 this July, yikes! Phone calls and emails have been coming in everyday asking, "What's the date of the April Sacramento Swap Meet?" My only answer has been, "stand by." I was entertaining the thought of shutting the swap meet down due to the loss of the "cheap," ARCO parking lot, but we are going forward and here is the official date: Saturday, April 29th at Cal Expo in Sacramento. It was a tough decision to make – my age – my loyal swap meet crew and my much beloved wife of 47 years, played a huge part of this decision to move to Cal Expo. Another big part of my decision was the future of the Old Car Hobby and Old Car Swap Meets in general. The swap meets are where I received my "OJT," (on the job training) in the old car hobby. With the disappearance of venues large enough to hold the swap meet, (with easy freeway access), this was a big factor in my decision to move to Cal Expo. Cal Expo has huge open spaces and a support staff in place to insure that we can grow and continue the tradition of the Sacramento Swap Meet (aka the Reno Swap Meet). This swap meet was started in 1965 by Mr. Bill Harrah & William Finefrock. It has been a huge challenge for me, my family and my staff, to hold it together through the move from Reno to Sacramento in 2008, and now they are helping me guide it to the new location at Cal Expo. There will be a parking charge of $10 to Buyers and we will need to incease the admission to $12, also swap meet space costs will go up to $35. The CEO of Cal Expo has agreed to give us a trial run in April … permitting vendors to be on the grounds overnight. We will use the Cal Expo staff to assist in the set up and in operating the swap meet. You CANNOT bring in any alcohol! We will enforce this rule, which was requested by the Cal Expo management. I ask for your patience and support of this move. It will all be new to the spectators and vendors … much like when we moved to the old ARCO Arena parking lot. In the works will be more swap meet dates at Cal Expo and maybe, a Poor Man / Rich Man Classic Car Auction in Sept? We will start off in Lot A on half asphalt and grass, (where the amusement rides were set up for the California State Fair). We will be mailing out vendor applications in mid-March. As usual, we will have spaces available on the day of the swap meet.
---
"I didn't get my January Cruisin' News." I lost count of the complaints that were phoned in asking, "where's my January Cruisin' News?" We publish the paper 11 times a year so, the December and January issue have been combined for the last three years.
---
The Mother Lode Cruisers Car Show held in Jackson on May 20, 2017, has NOT been cancelled. The Motherlode Cruisers will be holding their show in Jackson. See ad in this issue on page 9.
---
The Ione Rotary Car Show 2017 – The Eagle's Nest Airport Owners Association welcomes the 2017 Rotary Car Show, but the Rotary Club of Ione has chosen to cancel the 2017 show due to "unresolved" issues. The Rotary Club of Ione may reconsider the possible 2018 show. Dave Wardall (just want to thank Dave, he has worked many untold hours to get this show going again and he's like an Energizer Bunny he never quits trying).
---
I'm curious to know how many people showed up at The Buick Club Swap Meet on Feb 5th. There were many guys coming up to us at the January Turlock Swap Meet and saying that they were planning on going … really? We had announced in mid-2016 in the Cruisin' News that the Sacramento Buick Club had voted to stop doing this swap meet.
---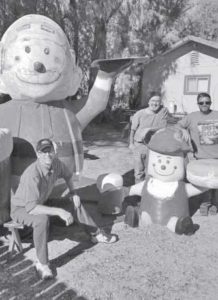 Peter Knight, the owner of the first A&W Root Beer Stand in Lodi, is always out looking for rare A&W stuff. He found these statues and is restoring them for his store in Lodi. Pete is also the spark plug for the A&W cruise nights at his A&W in Lodi. Pete is offering his location to other car and motorcycle clubs to hold events. Call him at 209-368-8548 to find out how to have a show at his A&W in Lodi. Pete would like to start a bike night … scooters, bicycles and HOGs.
---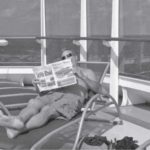 "Cruisin' On The High Seas" – This is Richard Lessa of Fair Oaks, CA, lounging on an ocean liner in the Gulf of Mexico, catching up on his important reading. A little known fact – we have subscribers all over the U.S.A. and they are looking for California gold in the swap-n-sell ads. I've just looked over what's in this issue. There are at least 5 (or more) smoking car deals in the photo ads and more "golden" rusty deals in the swap-n-sell ads. So, it's much more fun to sit back and read the ads without having to click on the screen or have your computer crash on you.
---
Gotta run for now … I've lots to do getting ready for the big move to Cal Expo this April.
JS
NOTE – Hope to see everyone on April 29th for our 52nd Annual Sacramento Swap Meet (aka the Reno Swap Meet) at Cal Expo, Lot A, 6am-4pm … admission $12 … public parking $10 and vendor spaces $35. Sorry for the new fees, but they are necessary to be able to continue the rusty tradition … and pay all the bills.
Dings & Dents – March 2017