A 1932 Chevy Woody
That was Not Made in Detroit!
By John Sweeney
March 2017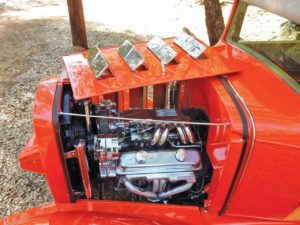 This 1932 Chevy Woody was made in Auburn, California. Len Smith of Auburn, CA decided that Chevrolet should have built a Woody in 1932, but they didn't so, Len decided to build his own. He bought a 1932 Chevy front cowl and frame and dragged it over to his buddy, Doug Wilson in Lincoln, CA and said, "Here make a chassis for me." Then Tom Bice of Auburn, started teaching Len how to paint. Len bought a fresh built '86 injected Corvette motor from Tom Bice and gathered up a 1973 Corvette rear end to be modifi ed to the "Wilson Custom Frame." The "Wiring Wizard," Jerry Rector of Auburn, CA hooked up all the electrical. A true team effort of good friends, who cruised together over the years. The amazing woodwork and the attention to detail was all Len. The main supervisor on the project and "bill payer," was Phillis, his wife.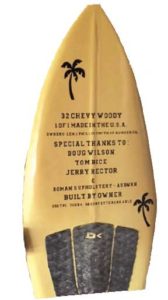 Len started this project in 2009.Phillis would catch him up at 4am, doing the planning for all aspects of his Woody Dream. Len sprayed the Hugger orange paint to perfection all by himself. He created a special wood line to match the original Chevy body lines. The dash is a creation to behold … magic wood working skills. Len entered the "Woody" in the 2016 Autorama to be parked next to another '32 Chevy Sedan Delivery, owned by his buddy, Tom Bice. Sadly, Len passed away on Jan. 10th of 2016, but his buddies made sure that the car made its debut right on schedule at the February 2016, Sacramento Autorama. It was a hit with all the Autorama spectators, many thinking that is was a factory made Woody. In the near future, as Phillis prepares to move to a new home, the Woody is going to be put up for sale. If you might be interested in purchasing this one off creation, you can contact Tom Bice at 530-823-8871. Tom will be assisting with the appraisal and the sale of the 1932 Chevy Woody that was NOT made in Detroit.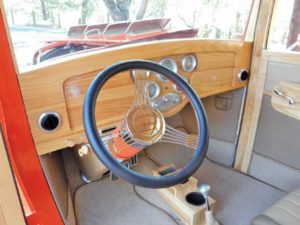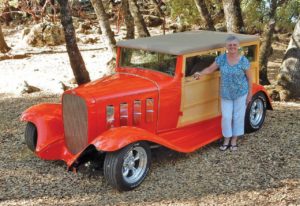 Garage Snooping: A 1932 Chevy Woody