By John Sweeney –
Old Car Nut, Caretaker of the Reno-Sacramento Swap Meet & Publisher-in-Training
I stayed at the new Hampton Inn in Turlock, (located at 1821 Lander Ave.), this last January for the Modesto Area A' s Swap Meet. Great place, low rates … 209-664-9729. I tried to book it for 2018, but at that time they wouldn't do it. Now they've decided that since they had a full house, they're going to bump the rates up $30 more for the Turlock Swap Meet on January 27-28, 2018. All-in-all, it's still a good deal considering what the other hotels are charging … better go book a room now.
---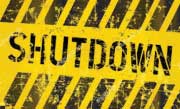 The Auburn Region Vintage Chevy Club will not be putting on their annual swap meet in September at the Auburn Fairgrounds. After 20+ years, they just don't have enough help to set-up and run it. Plus, the money spent versus the money that they made – well, the club decided that it wasn't worth the effort. They said that they plan on taking another look at it in 2018. That leaves only 3 club swap meets in the Sacramento area now. The Horseless Carriage Club Swap Meet at American River College takes place on April 30, 2017. The Mother Lode Model-T Club Swap Meet in Auburn on June 4th and the Sacramento Chevy Club Swap Meet at Sacramento State College parking lot on June 11, 2017.
---
John Buck, the owner of Rod Shows, (also the producer of the Sacramento Autorama and Grand National Roadster Show), has been hired to run the L.A. Roadsters Father's Day Show on June 17 and 18 at the Fairplex in Pomona. Rod Shows will focus on improving the organization of existing elements, including the swap meet. This year, the show is expected to draw approximately 2,500, 1974 and earlier rods, customs, and classics. Almost 1,000 of them will be 1936 and earlier roadsters, attracting participants from all over the country and spectators from around the world. Well worth going to see this great event.
---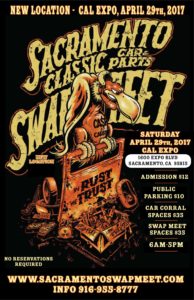 We've been working hard on the Sacramento Swap Meet at Cal Expo. Please, come and check out this great new location. If you are planning on selling, see the vendor application on page 57 in this issue. It's coming up fast and you have to mail in the application by April 20th, if you plan on paying by check. Be assured that there WILL be plenty of open spaces available at the gate on Friday, April 28th and also on Saturday morning, April 29th. We have in excess of 4,000 vendor & car corral spaces available. There will be NO RV spaces on the grounds at this April swap meet so, if you need to bring an RV you will have to buy more swap meet spaces to park in. The public admission is $12 and Cal Expo will charge $10 to park. Yes, I have already heard the screaming, but if the swap meet was to continue, this move to Cal Expo was our only choice because of the size of the swap meet. I must state that this is a huge challenge, moving 800+ vendors from the old ARCO Arena to the Cal Expo grounds so, be patient as we work out all the kinks. We feel confident that the move will go smoothly.
---
The March Cruisin' Calendar had a "big oops" last month. On page 37, the May 14th date ended up over the May 20th dates. We have corrected that for this issue. So, please go and check to see if you were going to any of those shows and make note of it. Always remember our advice … CALL BEFORE YOU GO
---

We welcome a new advertiser – Victory Body & Paint and Victory Powder Coating in Anderson, CA. Victory has the largest powder coating oven in Northern California, measuring 28'6" long, 11' wide, 8' tall. They also do Ceramic/Cerakote Insul-Kote, and fiberglass restoration and custom fiberglass molds. See their ad on page 13.
---
The Car Show Behind Bars – I would really like someone to go to this car show and take pictures for an article in the paper. Oregon State Penitentiary Car & Bike Show, June 24th in Salem, OR. Call Ron R. Edgeman, the show director at 503-378-2289. I'm really curious about how the show is done. This will be the 40th Anniversary of the show. Here's a pic of last year's show.

---
"The Greatest Motoring Adventure – Peking to Paris 2019." The Peking to Paris Motor Challenge is unique in the motoring world – a true endurance motor rally following in the wheel-tracks of the original pioneers of 1907. Driving an old car nearly half way around the world with a bunch of like-minded enthusiasts, against the clock, with the added spice of timed sections, makes Peking to Paris the longest and toughest driving challenge for Vintage and Classic cars.
Who can participate? This Peking to Paris Motor Challenge is open to cars of a type produced before 1976 and is suitable to both novice crews, with training and support, as well as experienced rally entrants. Taking an exciting route via gravel, sand and stunning roads, luxurious hotels and desert camping, this is a life changing, never to be forgotten, adventure. The route is challenging, but the Organizers welcome both newcomers and experienced crews. You will need a sense of adventure and be prepared to spend nights under canvas in the deserts of Mongolia and Kazakhstan. The ability to carry out regular maintenance on your own car is essential. Average daily distances are around 400 kilometers, but on occasion, they can be as much as 650 kilometers – it is an endurance event after all."
This 1939 Cadillac is being prepped by Rods-R-Us in Fair Oaks, CA. They took this stock Caddy and are painstakingly turning it into a racecar for the upcoming 2019 race. I hope to do a complete feature on the car in an upcoming issue. Many "trick" items were added to it so that it could withstand the road race. These pictures were taken by Nick Garamond, one of the Rods-R-Us team perfecting this racecar.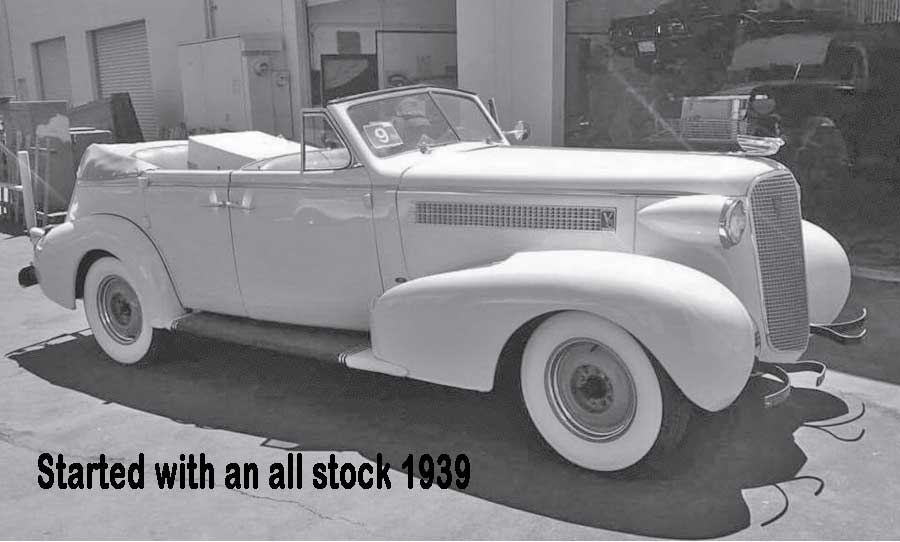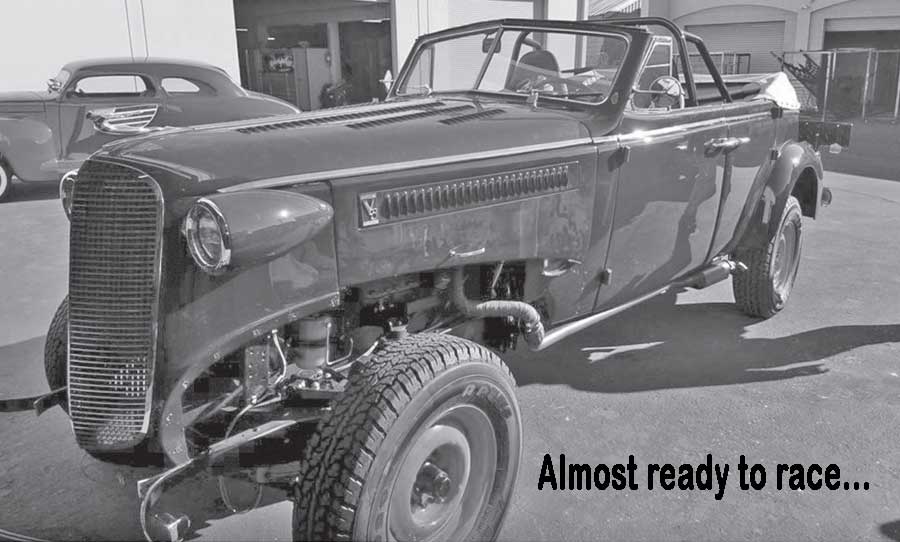 ---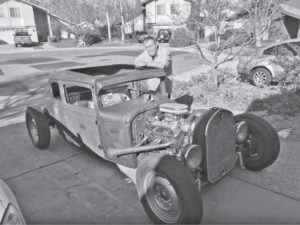 Rat Rod, Randy Bond of Sacramento … congrats on his new rat rod coupe . I used to pay this guy $20,000 to produce 30 second TV commercials in the 80's. You may remember his TV show Chopper Challenge, (he has won 11 Emmy awards over the years). I asked his wife, if she would be riding in the chopped coupe, her prompt reply, "Hell No!!" Randy has on occasion helped us out at the Sacramento Swap Meet. He's addicted to rust and bagger motorcycles, (and of course cameras).
---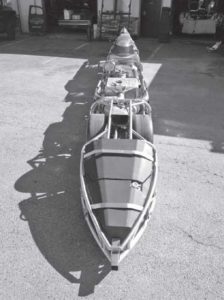 300 MPH heading to 400 MPH- Ed Umland of Orangevale, CA is building a streamliner that I'm going to bet will exceed 400 MPH at Bonneville. His passion, commitment and skills are truly amazing. Ed is the owner of Eddy's Chop Shop, where he cranks out some wild creations with a staff of one. He has the need for speed and the skills to reach the 400 MPH records in this streamliner. Go Eddy!
---
I will end this column for April 2017 with an Easter wish for everyone – May you find all those hidden Easter eggs and a "barn find" real steel, 1932 Ford Coupe!
JS
Dings & Dents – April 2017