Ron Girard's … Dream Forty
From "Bulk Mail" to "Front Cover"
By John Sweeney
"Where's my Cruisin' News?" I love these calls … not really. Ron Girard's issue wasn't delivered by the 1st of the month. So, I check on his subscription with our mailer. I had to tell him that his wife no longer loved him. She moved him from "First Class Mail" to "Bulk Mail," when she renewed his subscription last month. This is a very common occurrence, when the spouse sends in the renewal card. Ron needed his "Cruisin' News fix" fast. So, I told him to meet me at "Bruce Brincka's weekly car get-together" … aka Folsom Cars and Coffee on Saturdays. Bright and early on Saturday morning, Ron was there waiting for his current copy of the Cruisin' News and he was driving everyone's dream hot rod. This spectacular, flamed Forty Ford Coupe. I gave him his "late bulk mail copy" of the Cruisin' News and he asked me how he could get his '40 on the cover of the Cruisin' News? I told him, hop in your car and follow me. We drove over to a nearby open area to take some pictures of this cool coupe. And that's how Ron ended up on the cover this month. Maybe you have the next cover car just give me a call at 916-933-0949 and we'll see what we can do.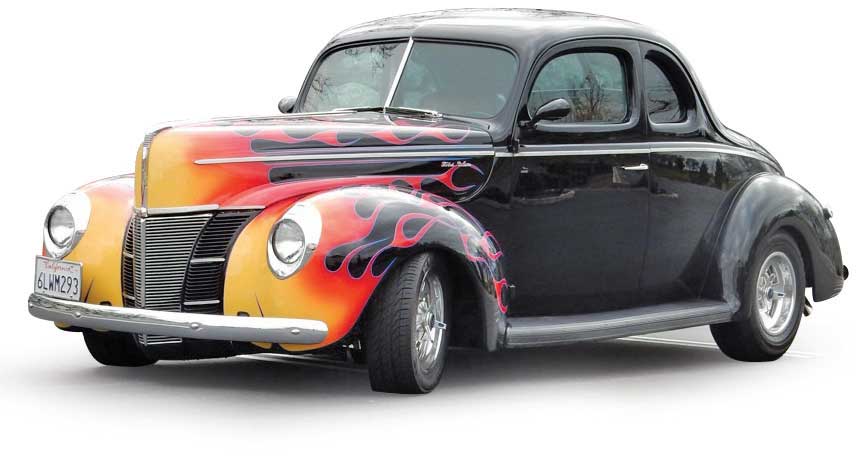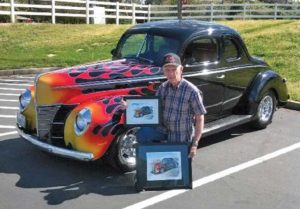 Ron lives in Rocklin, CA and purchased the Ford from Jim Dyer in Lodi, CA in 2010. It was first built in the 90's, somewhere near Jackson, CA. The outstanding flames were first done in 2000 by "Jackson?" Jackson signed the hood with "Jackson2K." Ron had Street Rods Plus in Lodi add these updates: Kugel Komponents IFS with coil over shocks front and rear, front Wilwood disc brakes, rack and pinion steering, Vintage Air and SPW power windows. The interior & trunk were stitched by Gilbreth Custom Designs in Galt, CA. Roseville Rod & Custom reworked the front sheet metal and installed a Griffin aluminum radiator, and reworked the rear suspension. New paint was sprayed where needed and the entire car color sanded. The new flames on the hood, were redone by Brian Wilson of Roseville Rod & Custom.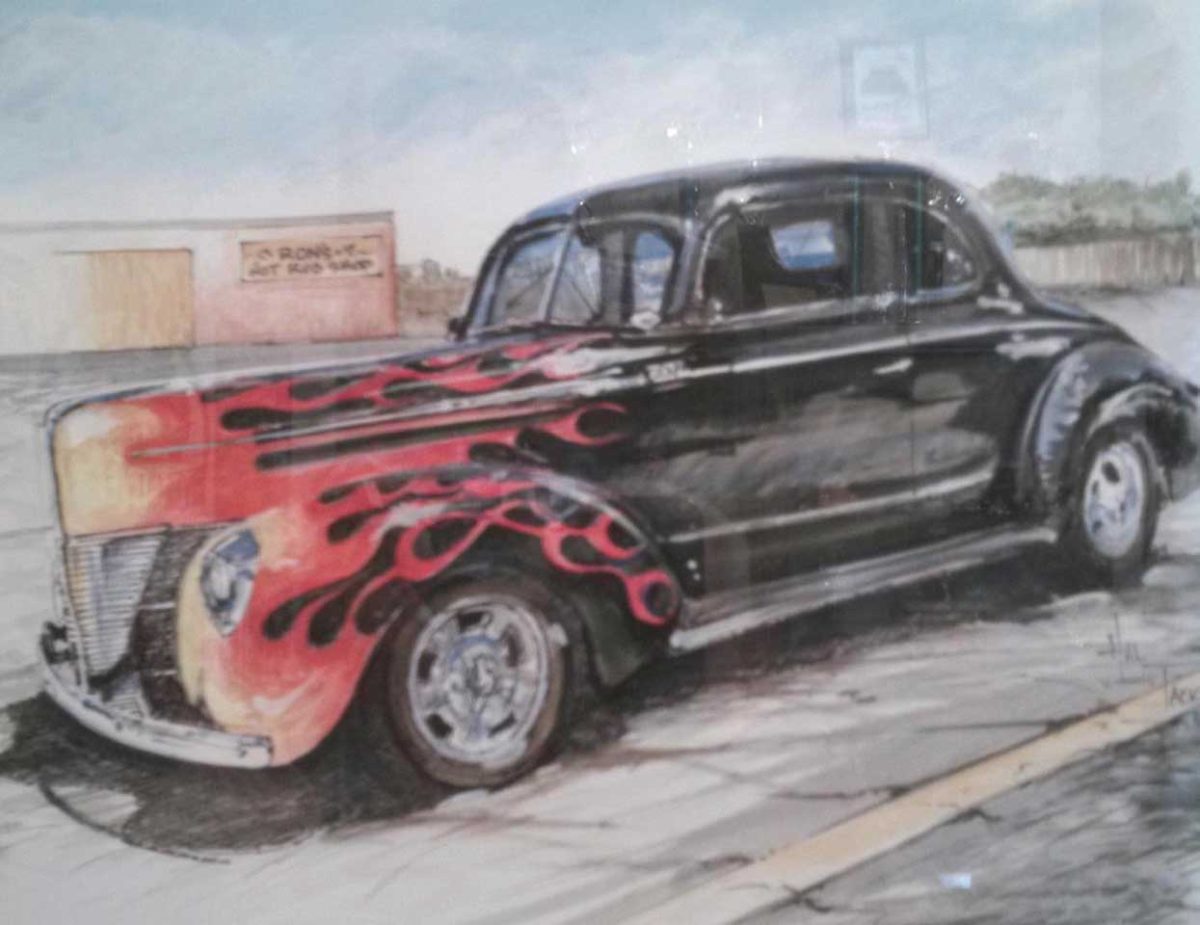 Hal Tacker of Colusa, CA did this water color rendering of the car from a photograph that he took at a car show. Prints are available from Hal for $40 at 530-301-7062.
The front cover picture was photographed by Dave Koontz of Dave Koontz Photography in Roseville.
Sometimes bulk mail pays off … if you don't mind getting the Cruisin' News with very late delivery!
Garage Snooping: Ron Girard's … Dream Forty