By John Sweeney –
Old Car Nut, Caretaker of the Reno-Sacramento Swap Meet & Publisher-in-Training
May was a record month for car shows … many new ones and the return of some of the old ones. Some with new guys running them, all-in-all I'd say that the hobby is alive and doing well. Thank you Dave Oyler for the spectacular car show at the Canyon in Folsom … rave reviews … (Dave was quoted as saying, "one and done," I say, maybe he has more shows coming.)
---
Auburn Packs Them In!!!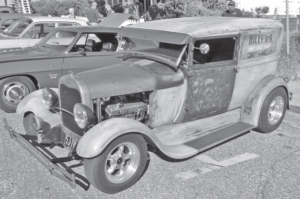 I attended a few cruise nights this May including, the first of the season Auburn Cruise Night. It was jammed packed … the Auburn Cruise Night crew did a super job of handling the parking of the cars … even when a truck with a 40ft 5th wheel camper ended up right in the middle of "the turn around and back in" procedure. Cool heads prevailed, and the crew found a way to get that poor guy out of there. Can't say enough good things about those guys who run that cruise night. And of course I ran into this guy … you should recognize him from the picture below … the only place on his body that he does not have a tattoo … Wild Bill!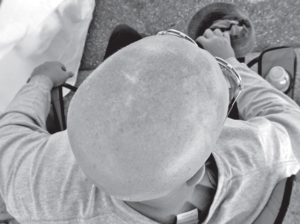 ---
Mail Bag Stuff…
Greetings Amigo. Hope all is well. Quick question … I have a good friend that is looking to have a blown flathead built (regular heads, not Ardun) any recommendations?
Thanks in advance.
Ross B.
P.S. Me and another buddy recently purchased this old road course truck, 358ci Chevy (602 crate), 4-speed, Quick-change, etc., for open track events. Holy sh%#@# Talk about fun.
Hi Ross …
The Flathead Shop in San Jose has been a longtime advertiser and he builds some pretty great engines, but get ready to spend north of 20 grand for a blown Flathead V-8 … Yep, Flatties are fun, but they are not cheap. One thought I had is to run a "Wanted Ad" for a Flattie that someone is no longer using. It might be the way to go … you just may get an entire car that had been "pickled and not used" anymore by some old guy (like me). The bonus is that you get to hear it run before you buy it. Our "Wanted To Buy" ads are "super charged" and get great responses. Now about that new race truck … WOW! You are having some kind of fun congrats!
---
People use our Wanted-To-Buy ads from all over the country because they know we are a hot bed of cool cars and rare parts … Like this guy from Illinois in this current issue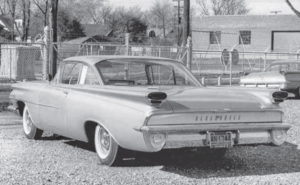 Wanted – 1959 Oldsmobile 98 two door stainless trim … in Illinois.
See the Wanted Ad in this issue on page 26 … car guys helping car guys is what it's all about.
---
Quiz Time …
What do you think the U.S. Post Office lost on operations January through March 2018? It was 1.3 Billion Dollars … up from last year, when USPS lost $562 million in the same time period. Thank the internet and use of emails, etc. What does this mean to you? Get ready for a Cruisin' News subscription increase because the postal rates are going up. If we still want the USPS around and congress wakes up and lets the USPS operate as a business. (USPS does a great job in the face of some tough competition that can charge what it takes to run a business, where USPS must ask congress for permission to raise the postal rates … try getting those congressmen on the same page to work things out)!
To top things off, we were just notified about a 12% increase in newsprint due to a new tariff imposed on Canadian paper. You are holding Canadian paper in your hand right now. The garage forewoman is crunching numbers now to see where we can save $$ and still provide a quality newsletter … we hope that we can avoid a rate increase … so, go get us a few new guys signed up for subscriptions and start running more ads, that would be a big help.
---
More Increases – The January Turlock Swap Meet is planning to increase swap meet space costs and maybe entry gate costs. Modesto Area A's are faced with increases also – as are all the swap meets if you follow my column.
---
I was talking with a complete stranger at the Auburn Cruise Night  about cars and he related how he was selling stuff and making lots of money on parts, etc., shipping them to Europe. I asked him if he supported local swap meets? He answered real quick, No! He said, "swap meets are making a lot of money, they charge the  sellers and they also charge the buyers to get in … the swap meets are making a ton of money." I bit my tongue and walked away.
---
Now the good news – Our April 21st Swap Meet at Cal Expo was great. We numbered the spaces and assigned them for the vendors  and made them much bigger. This reduced our bottom line a tad, but we made up for it in a larger vendor count and larger attendance. A big thank you to everyone and thanks for supporting swap meets even though some guys think that we're making a killing.
---
Fairy Tales do come true … Thank You William Sargent.
Many of you might have heard that I purchased Sarge's 1953 Chevy COE aka "53 Tall." Sarge called me first because he knew of my love of COE's and luckily it was never offered for sale before. I  had to pinch myself when he called and asked if I wanted it. I had sold off most of my cars, trucks and bikes trying to wind down. So, now I have to build a new garage for this COE. You will see it  at the GoodGuys on Saturday, June 2nd in Pleasanton and on June 3rd at the Model T Swap Meet in Auburn. It will take your breath away – you have to check out the tailgate "chains" and glance underneath it. The MOST amazing vehicle that I have ever owned. Sorry guys, my daughter, Stevi, has asked for it should I ever quit driving it and before this she never really wanted any of my old cars. Well, maybe the 1961 Corvette, but that's another story.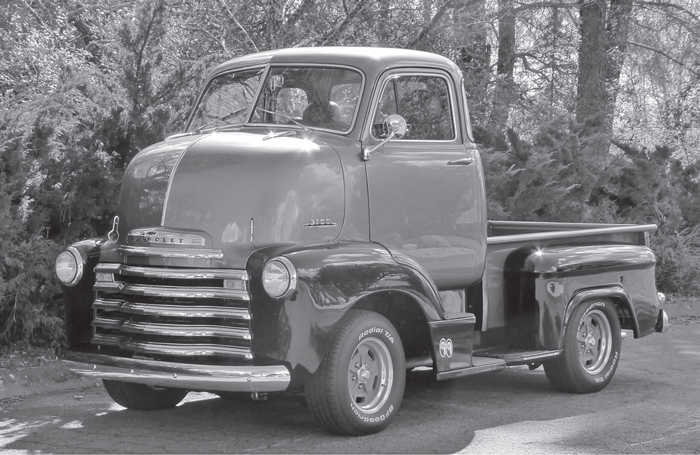 Riding tall in the saddle … thanks Sarge!
JS
Dings & Dents – June 2018