By John Sweeney –
Old Car Nut, Caretaker of the Reno-Sacramento Swap Meet & Publisher-in-Training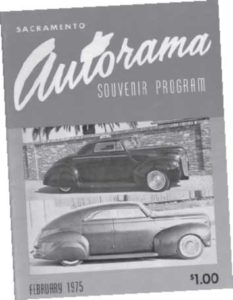 Prepping & Loading up for the 68th Annual Autorama this month! So many Autorama memories … working with Don Tognotti, Rick Perry and I will never forget "Thunderbolt" Gary Peters, running around on his scooter, shouting orders on set-up night. I have met so many great people, who built great vehicles plus the hard working Autorama staff. Congrats and thanks to John Buck for carrying on the torch.
The Cruisin' News will be in Building A/B on the bottom floor and no, I don't have any extra passes. Ha Ha!
---
This issue is jam packed with deals … even I am tempted to buy a car that's for sale in the photo ads …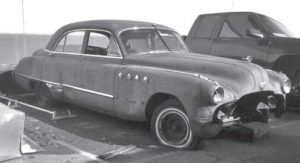 Read those ads … and this is one car that everyone can afford, it's FREE!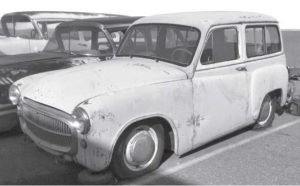 Plus, there's this rare wagon For Sale … it's in the swap-n-sell ad section.
Grab a beer and read those ads … Google does not work in the Cruisin' News … we are old school and proud of it.
---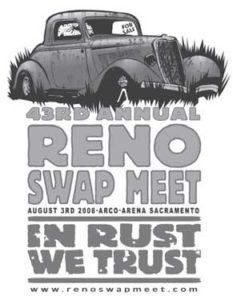 No, it's not in Reno … It's in Sacramento, April 21st, 2018 at Cal Expo! We are set to go for the Sacramento Classic Car and Parts Swap Meet in Lot 26 and Lot A. We've changed the layout and expanded the space sizes, and we've moved the car corral. I had hoped to have the vendor apps in this issue, but it's still in our legal department. If you only knew the hoops that we have to go through, but it's worth it to see the people coming from all over the West Coast bringing parts & cars to participate in this event.
We are adding a special commercial area for hot rod shops and automotive service providers to set up their booths. There will be an area for non- automotive vendors … stuff for the ladies.
Also, we have set up blocks of rooms at the Fairfield Inn and the Arden Star Hotel for vendors and spectators.
So, please go and start preparing today for the swap meet.
Get a buddy and share a space.
Go to Costco and get some empty boxes (they are free) and put your "clean" parts in them with a price on them. Get organized now and it will increase your sales 10 fold.
Get a CA Fire Department approved EZ Up tent (if you don't already have one).
Get a space reserved and roll in on Friday, April 20th at about 7 pm, and spend the night. Friday night is the unofficial wholesale night … all the vendors are out shopping. Anybody can buy a space and come in Friday night and join in on the Friday night fun. (You do not need to have parts for sale in your space. You can spend the night and be ready to go at daybreak before we open the gates to the general public).
Yes, I know that the $10 parking charge is a big gripe, but it's just a fact of life if we want to have a huge swap meet and draw people from all over. Cal Expo provides us with a facility and a support staff that really works hard for our swap meet operation. The key thing is "Location- Location," and the room to expand. Yes, we have a plan to grow and to perhaps hold the swap meet four (4) times a year – much like the Pomona Swap Meet. It's just taking us time to figure things out and "fine tune" the swap meet. We will be assigning spaces this April. This is a big step and it will be a lot of work for our staff, but it should end much of the set up day confusion.
I do need some help with these two issues ASAP!
Handicap Scooter Rentals – I tried to contract with the same company that does the State Fair and the GoodGuys Show, but they declined. They say that it's not profitable for them to do a one day event. If you have any suggestions or leads, please call me or I guess you may have to buy your own and bring it to the swap meet.
The other thing that I need are "Parts Haulers." Ken Hamel, was promoted and is not able to bring his students down to do it. If you know of an organization that wants to earn money, hauling parts back to the buyers cars, give me a call ASAP.
Please, always use our porta potties – no open fires or use of bicycles or skate boards … it can get you tossed out … it's a safety issue that I have to enforce, if we want to continue to have a swap meet at Cal Expo.
---

I'm still struggling with Facebook … am I the only one who doesn't understand it? We have over 2,507 people who "like" the Cruisin' News page – we thank you for your support.
FYI – People "Facebook Messenger" me about an event that they want to list with no contact phone number or a location … it's tough to figure it out. I tell them to U.S. mail or email the event form (see page 32). Our readers have been trained to – Call B-4-U-GO to make sure that things haven't changed or been cancelled!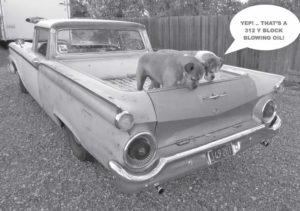 I mainly use Facebook to show off my silly Boxers, but other people thrive on it … give me human contact please … not a "Billion Dollar" time waster that may or may not reach real people.
Please. if you know of an event be sure to send the info to us so that we can get it in the Cruisin' Calendar … it's free and it reaches a REAL target audience of REAL car guys and gals … See page 32 for the event form.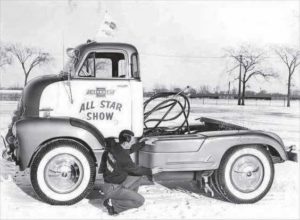 Keep it Real…
Keep it Rusty…
Please Do Not Facebook Messenger me!!
JS
Dings & Dents – February 2018