Turn 4 … All American Vintage Classic
By "Lew" Lewis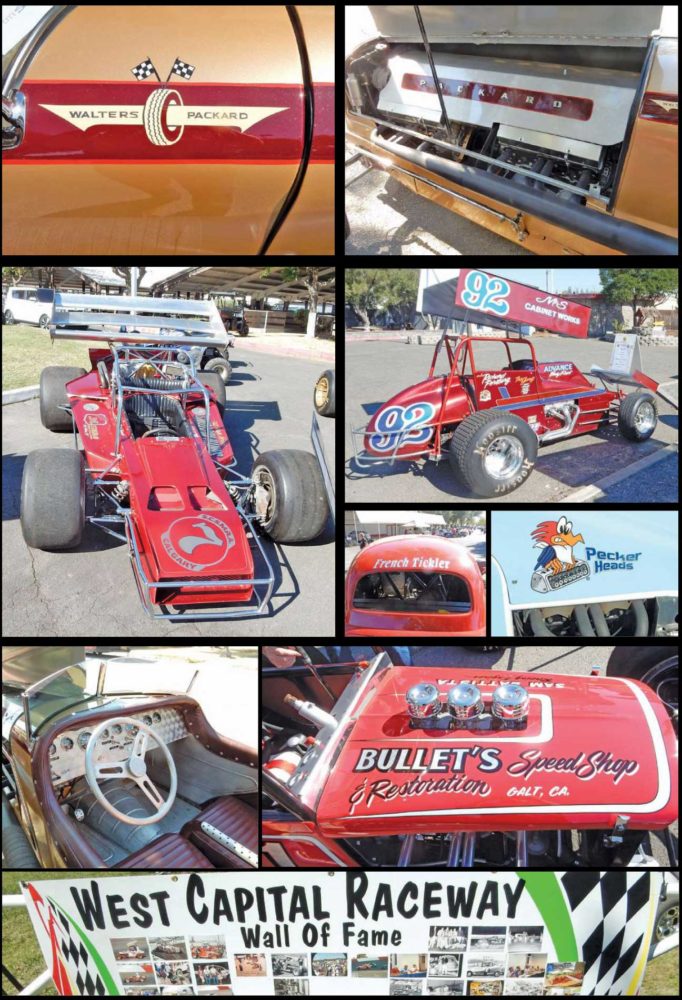 The 2017 edition of the All American Vintage Classic & October's Best Car Show is in the rear view mirror. This annual event, held at Roseville's All American Speedway, is presented by the West Capital Raceway Alumni Association featuring vintage race cars, a silent auction, vendors, the Hall of Fame inductions, and a great BBQ lunch by Back 40 Texas BBQ and three years ago, we added a great hot rod and classic car show. Steve Dobbyn of the Townsmen car club, who headed up the show, reported around 100 cars this year. This show features something unique to any event. We allow all car show entrants to take a few laps around the 1/4 mile paved track, (at a controlled speed of course). No encounters with the wall were reported, however there were a few "throttle tests" (burn outs) which was Kool. The West Capital Raceway Alumni's All American Vintage Classic & October's Best Car Show was a huge success. With 100 cars and perfect weather the show was a great addition to the Hall of Fame presentation and BBQ lunch. Thanks to Dave Bradway Sr. / Richard Forsberg / and Sheila Ross Fasig for bringing out their beautiful race cars for static display. Thanks to The Townsmen Car Club and Denise Brown for their hard work.
The Winners were: Best Muscle Car – Dennis Lee – 1969 Pontiac Firebird, Best Rat Rod – Robert Duncan – 1927 Ford Sedan, Best Convertible – Gary and Susan Hunter – 1964 Falcon Convertible, Best Under Construction – Jim and Soladad Hadley – 1962 Econoline Van, Best Original Stock – Steve Parks – 1940 Ford Convertible, Best Custom – Ron Girard – 1940 Ford Coupe, Best Truck – Jim Stewart – 1939 Mercury Creation, Best Roadster – Cheri and Bob Chatfield – 1931 Ford Roadster, Best Street Rod – Ken and Lyn Stephens – 1932 Ford Coupe BEST OF SHOW – Chris Sweeny – 1967 Ford Mustang. This beautiful 'Stang was constructed by the crew at Standley Brothers Rods & Customs in Yuba City.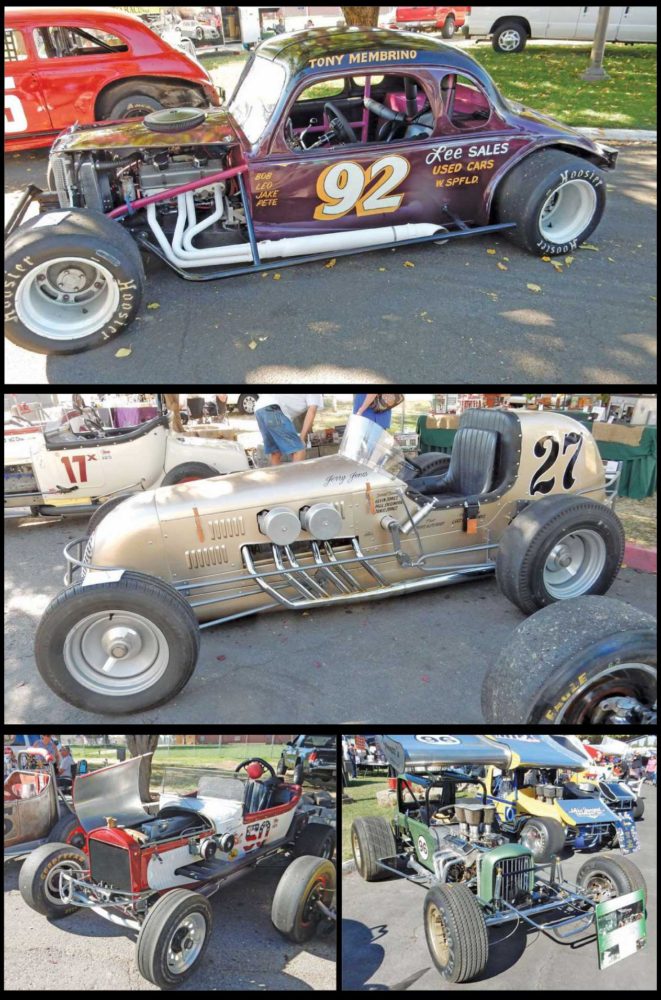 As far as the rest of the event went, Thursday evening was the Chili Feed and vintage racing movies followed by a huge session of bench racing and story telling. Friday morning, a small, but interesting swap meet was held. We were down in numbers of swapper, this year but there was some very nice racing memorabilia and vintage race parts for sale.
Saturday, was the "main event," the show cars started rolling in around 7:30 am, and at 8:00, a steady stream of push trucks and quads began pushing the race cars to the area just behind the grandstands. I didn't count them. but I estimated 60 -70 Sprint Cars, Midgets, Roadsters, Hardtops and a goodly amount of Super Modified cars. The race cars ranged all the way from Rich Rosser's, 1930's Midget race car, with wooden frame rails that was pulled from storage after a long sleep, to a hand built 1950's style Champ car. Gary, "The Woodland Express," Koster built this car from scratch and it's beautiful. It was no slouch on the track either turning fast and smooth laps. Thanks to Rich and Gary for bringing them out. Another car that was unusually Kool was a hand built replica of a 1930's, 2 man Indy car carrying two (2) small block Chevy's in the engine compartment. This car is owned by Jim Walters of Redding and was built by Brandon Back. The Super Modifieds owned by Bob Neilson and Jim Dare' really were tuned up and super fast. I'm sorry I don't have a list of the race winners, but the competition was close.
We had a great silent auction featuring some truly unique, handmade items from Danny Samos and Dave Fluck. Artist and Bonneville record holder, Hal Tacker, was set up selling his wares and secured several commissions.
Sadly, this will, in all likelihood, be the last All American Vintage Classic & October's Best Car Show. The main reason is the Placer County Fairgrounds has been leased out and the costs to put on an event have risen sky high. Unless we can find someone or a company to write a sponsorship check we won't be able to continue the event. That coupled with the fact that we are all getting older, our membership is shrinking and that we are finding it very hard to recruit new "blood." The West Capital Raceway Alumni will continue and we will hopefully, hold several smaller events somewhere, in fact a chili luncheon is already being planned for early next year. It was great to see the Northern California Auto Racing Alumni from the Chico / Anderson area bring their mobile museum down for us to enjoy. This group is dedicated to the preservation of the history of racing in that area. Stay tuned for more news about the West Capital Raceway Alumni.
In closing, I'd like to dedicate this column to three old friends who recently passed. Rest in Peace – Bill Tweedt of Mt. Sterling, Illinois, Cliff Sealock of Concord, California and Dave Mancebo of Auburn, California.
Thanks, I'm "Lew" Lewis
For news, complaints, jokes, bench racing or info about the West Capital Raceway Alumni … call 530-713-6491 or openwheeler12@att.net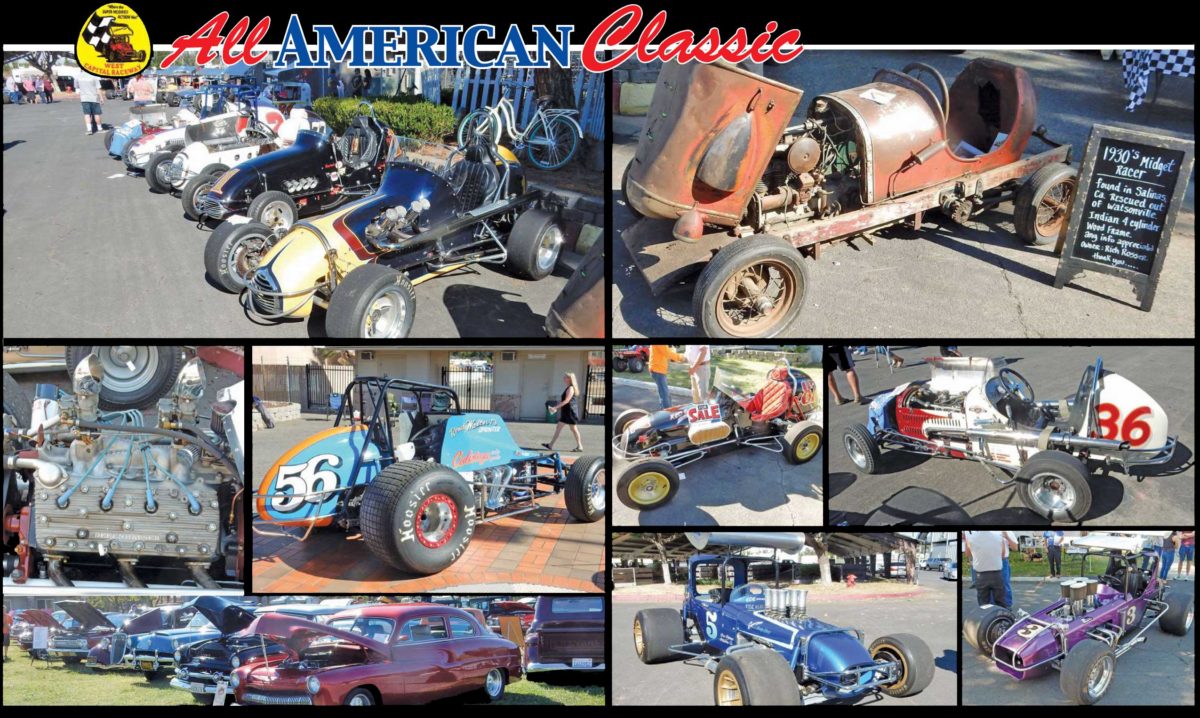 Cover Story: All American Classic