Turn 4 … "Mini Racing Team"
By "Lew" Lewis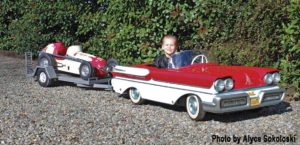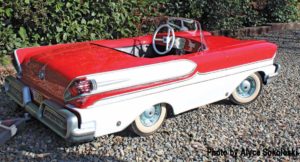 Since we are getting real close to Indy 500 time, here is the story of my "Mini" racing team. This 1957 Mercury was manufactured by the Power Car Co. of Mystic, Connecticut in 1957. It was powered by a 6 volt automotive battery utilizing a rewound starter motor from a Ford Y block engine and a combination of chain and belt drive. It also had headlights, tail lights, brakes and a horn. It would drive forward and backward by using a "drum" switch to reverse the polarity of the starter motor.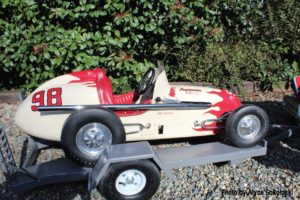 It came with a built in battery charger and I believe you could even get an AM radio as an option. Power Car Company, built these fiberglass bodied cars as Thunderbirds starting in 1955 through 1966, '57 & '58 Mercurys, '58 – '60 Plymouth Furys, 1965 Mustangs and possibly others. There were some other companies who built similar cars, '59 Fords, '56 Pontiacs, a Divco milk truck and other examples. There were approximately 175 of the Merc's built in '57 & '58. We know of around 12 to 15 that exist today, although I'm quite certain there are others stuffed away in dusty garages somewhere. These little (5 1/2 foot long) cars were meant to be used as wealthy kids toys, (in 1957 they cost $500 or if you opted for a gas powered unit, $600), or more commonly they were used as a promotional tool at automobile dealerships. Car salesmen often would take the little cars to local schools at lunch and recess time and pass out coupons to the kids. If the kids could talk their parents into taking a test drive at the dealership in a new or used car, the kids could test drive the little car on the showroom floor or lot. I'm certain that if you tried that trick around a school today you would be arrested and possibly worse. I bought this car in really rough shape at least 20 or 25 years ago from North Carolina's, "Vinny the Picker," with the intention of restoring it for my grandson to drive in parades. Well, I missed that deadline by just a little bit, as my grandson is now a senior in college! I did the restoration, my wife did the upholstery, and my buddy, "Doc" Midkiff did the painting and pinstriping. I had the license plates photo shopped. I chose not to install a battery so, it's a pusher right now, but I have retained all the parts to make it a "driver." The #98 race car is a 1/3 scale replica of the J.C. Agajanian owned, Troy Ruttman driven Indianapolis 500 winner of 1952. This is actually a pedal car. This car was manufactured by "Pedals" in about 1993, one of about 30 ever produced. It's super detailed and well made. It even has a working torsion bar rear suspension! I purchased this car in Grass Valley in 2015. It's serial number 098013. It's unknown how many of these cars exist today, I know of approximately 12 throughout the U.S.A.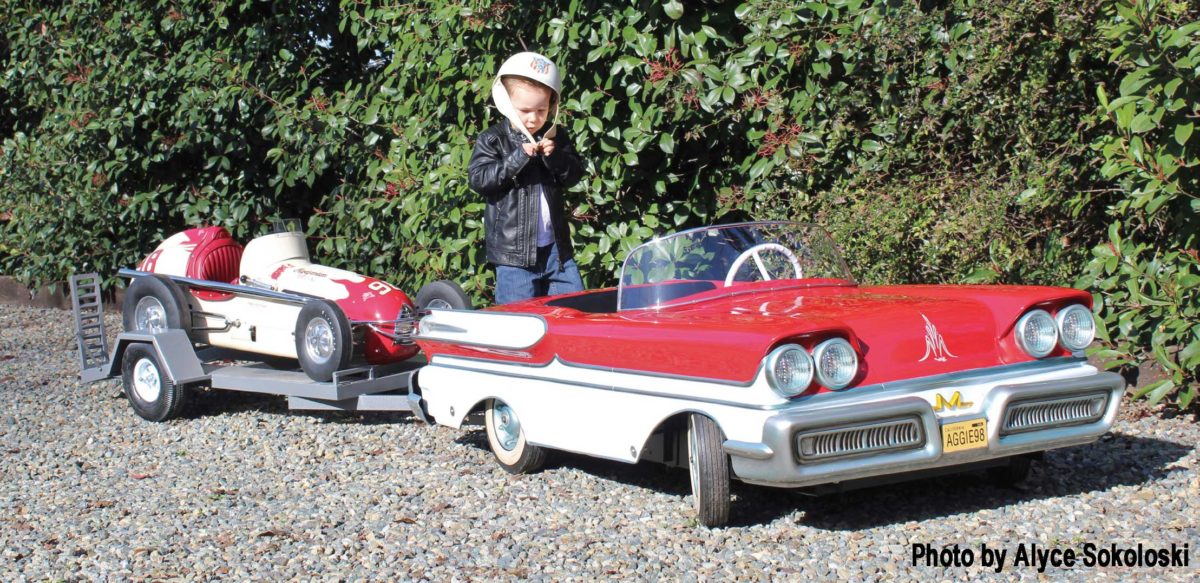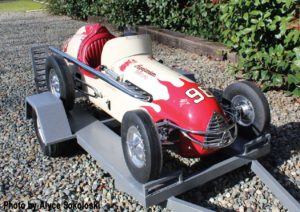 When I was restoring the "Mini Merc" I was thinking how Kool it would be to build a trailer and have a "racing team." I had some 1/4 Midget race cars at the time, but they were too large and out of scale as they were almost as big as the Mercury. I was in the process of carving a foam race car to take a mold from and build my own body when I ran across this example. The trailer was built by my friend Darrel Ommen of Marysville, while the Mercury chassis and trailer were powder coated by J & W Powder Coating in Yuba City. The "Racer" sitting in the Mercury is my nephew's son, 3 year old, Travis Sokoloski. Travis is a real "Gearhead" and loves anything with wheels and an engine. I predict that he will win the Indy 500 in 2037! I just love how the "Mini Race Team" turned out, but it takes up a lot more room to display than I have available so, I'm looking for a museum to display it in for a while. Eventually, my plan is to take it back to the National Sprint Car Hall of Fame & Museum in Knoxville, Iowa and display it there. I'm looking for other examples and owners of all the examples of the Power Car's and the #98 race car. I'm not being nosey, I'm just trying to run down as much history on the #98 and the Power Cars as I can. I'm especially interested in serial numbers to try and determine the number of cars built. You can find additional information on the cars by typing in jrcentralpowercars on Facebook. I hope that you've enjoyed reading this story as much as I enjoyed restoring the car. If you know of any of these cars around or happen to own one I'd appreciate a call or an email.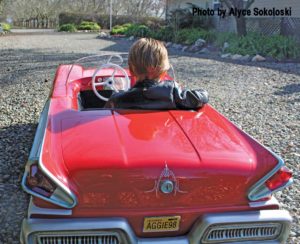 I'm "Lew" Lewis"
and I can be reached at 530-713-6491
or openwheeler12@att.net.
P.S. – I just found out that "Vinny the Picker" passed away around 8 months ago so, I would like to dedicate this car and this column to Vinny, a guy who after a bad morning at work just never went back and proceeded to travel the country making, his living "Picking." Vinny lived his life his own way and probably forgot more about picking than a lot of so called, "professional" pickers know. I know that Vinny is looking down at this little Merc right now saying, "I should have gotten more for that!" Rest in Peace, Vinny, I'll never forget you friend!
When I bought the Merc, I also bought an American "Moto Scoot" Motor Scooter, which I sold to someone in Woodland. If that person is reading this or you know who has it, please contact me.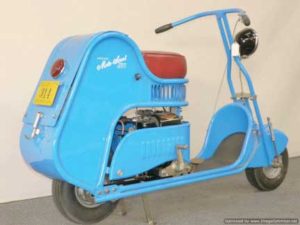 Cover Story: Mini Racing Team