By John Sweeney –
Old Car Nut, Caretaker of the Reno-Sacramento Swap Meet & Publisher-in-Training
We mail Cruisin' News renewal cards each month to those subscribers whose subscription will be ending in the coming months … We received a letter this month from a subscriber named Dan in Umpqua, OR saying that "it's a good time to retire his subscription since I was retiring the paper and that it wouldn't be the same without myself and Evonne." Dan (and others) – What we hope to do is get new, young guns to take over the operations and the day–to-day Cruisin' News headaches. I will always be here in the garage with the Cruisin' News. I will always have "motor oil" in my blood, I'm just getting high mileage on it and need to down shift a little. Dan started out listening to Cruisin' Talk in the 90's, while driving Exxon gas tankers out of Benicia, CA. And to answer your question Dan, no, I don't have any relatives living in Stockton.
---
Ever wonder what happens when a California car gets sold and shipped to New Zealand? Paul & Ally Ross of New Zealand, purchased this rare 1968 Firebird, 4 speed, 400 convertible, (1 of 3,000 made in 1968), in California three years ago … even though they inspected it very closely, somehow they missed the rust in the floor pans and it would not pass the New Zealand strict registration laws. So, off to Redver Charles, to do a full restoration to make the Firebird legal in New Zealand. Here it is at the Beach Hop Rock-n-Roll Festival Show in Whangamata, New Zealand, with the awards that they won. So far, Paul & Ally have invested $70,000 into the Firebird. There are no cheap, old cars. Paul & Ally will be coming back to the U.S.A. again in August, with a group of Kiwi's on another shopping tour. Paul always tries to make our Sacramento Swap Meet with many other car lovers from New Zealand.
---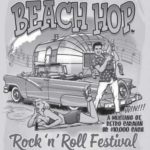 You may want to add this to your plans in 2017 if you are planning a trip to New Zealand. It happens March 22nd through the 26th in Whangamata.
---
Oops, I missed the 10th of the month deadline for swap-n-sell ads this month … (even I can't get an exception to the deadline rules). Anyone need a 1967 Mustang 9 inch rear end COMPLETE drum-to-drum? I had to pull this out of my Ranchero and get a narrower 9 inch to fit the wheel wells. It's in excellent condition, $350, complete with finned drums, street gears, ready to install. Call my office at 916-933-0949. Delivery available in the Sacramento area.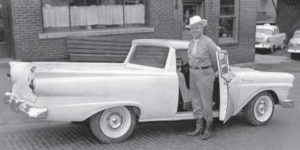 ---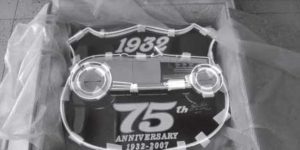 So, the editor sees this photo ad for this '32 Ford 75th Anniversary Neon Sign, limited edition, made by Steve's Auto Restoration in Oregon and now she wants it for her office. I told her that she has to wait until 3 weeks after the paper hits the streets before she can try to buy it to give the subscribers first crack at it. Please, go buy it before she spends my parts money. See the photo ad on page 48.
---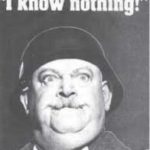 Yes, I get questions all the time about cars. People assume that I'm a encyclopedia car guy. (Note – I'm just a car guy who has had many cars and ended up publishing the Cruisin' News quite by accident). Peter B. of Gilroy came up to me at a Goodguys Show and asked if I knew if Oldsmobile had ever made a 1950 Olds Sedan Delivery because (I guess) he knew that I had a 1952 Pontiac Sedan Delivery. I told him that as far as I knew, Olds never made any. Peter sent me this picture of an Olds Sedan Delivery saying maybe they did?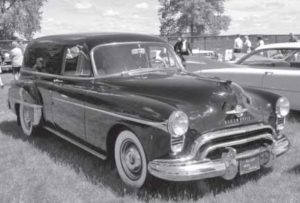 Gary Cope of Auburn, California, and I had many a conversation about an Olds Sedan Delivery because he's building one out of a Chevy Sedan Delivery. We both agreed that Olds never made an assembly line sedan delivery in the 50's. Just maybe they had one made at a design studio as a test project. The factories did a lot of that in the 50's and 60's to test public opinions. The only thing that you can count on with old cars is that they are very cool and so is this Olds Sedan Delivery pictured here. Drive and enjoy the stories!
Always love to hear from all our readers, we value your input and advice!
---
Cab over sickness – I've changed from Studebaker sickness to Cab over trucks. I would like to find one of these Ford Cab over rigs – Am I the only one obsessed with these big rigs? If you have one let me know, I'd like to do a story on your COE and see how many are being put back on the road these days.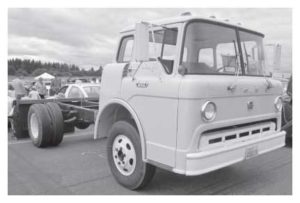 ---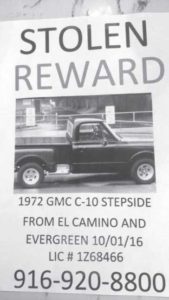 Stolen last month –
This 1972 GMC C-10 Stepside was stolen in Sacramento, CA. Call 916-920-8800 if you have seen it or have any info about it.
---
Happy Turkey Day!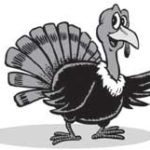 JS

A reminder – The next issue is a combined issue Dec. 2016 / Jan. 2017. So, get those ads in ASAP…We'll be taking a vacation after that issue is mailed out and be back in the office around Jan. 10th to do the Feb. 2017 issue.
Dings & Dents – November 2016