By John Sweeney –
Old Car Nut, Caretaker of the Reno-Sacramento Swap Meet & Publisher-in-Training
Sometimes you forget to check on friends in today's hustle and bustle of life … does anyone remember seeing a sign that said, "Tom's Auto Software" at the past swap meets? Yep, that was "software" meaning "original upholstery / car covers," etc. That was Quaker State Oil salesman, Tom Hitchner's booth. Tom and I became friends in the 70's by hooking up at swap meets. He had a MASSIVE collection of rare $$$ Mopars and Powell Pickups … just to mention a few. Tom passed away on March 25, 2017, at Sutter Hospital in Roseville, CA, from complications during recovery from a surgery. He was a mentor and a close confidant of mine over many years in the old car hobby. He warned me about taking over the Reno Swap Meet in1989, (several years before I did take it over). Tom said that it would be a huge challenge in the future. Tom was pretty much always on target. Tom was born on March 31,1925, and was raised in Live Oak, CA.
Be sure to check on old friends often … Rest In Peace Tom and thank you for all your guidance in life and this crazy car hobby.
---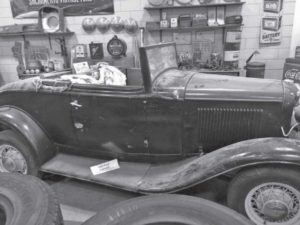 Bad news for Bruce Woodard – His huge 1932 Ford & Vintage speed equipment display (free storage) area at Sacramento Vintage Ford might be ending. (I'm hoping that Bruce will part with some of the rare stuff or he may be moving it to a new location?) Check out pages 8-9 in this issue. The Sacramento Vintage Ford "Kohout team" is going to move into a new location and is having a HUGE SALE. All merchandise is at a VERY deep discount because it's easier to sell it, than lift and move it. The new Sacramento Vintage Ford location will be announced in the next issue. It will be another cool store. Darold is designing the new store so, look for some new 2017 features at the new location. Meanwhile, head on over to the old location and buy stuff so that his son Mike, doesn't have to load and haul all the stuff to the new location.
---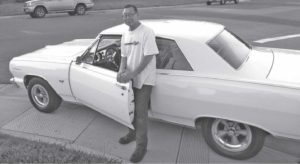 Birthday time! I hate anyone making a fuss over my birthday, as does my dear friend, Don Leong of Sacramento, but I received a request from several people to make note of Don's birthday (they even wanted to buy an ad) so, here goes … Don, you have too many friends that you have helped over the years and they wanted to let the world know how much they love you and appreciate you. So, the cats out of the bag and you still have to run the Cruisin' News booth on Sept. 9th at the Sacramento Swap Meet at Cal Expo. (I didn't give Don's age, but he's over 65).
HAPPY BIRTHDAY
DON LEONG!
Love Kasie, Miguel, Little Miguel, Esai
and all the friends who love you!
---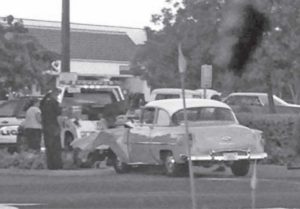 Be careful at Cruise Nights – This happened last month in Folsom at the Denny's Cruise Night. Luckily, no one was hurt except Linda's' very cool 1954 Chevy … if you have a front clip complete, please call my office and let me know (916-933-0949) and I will pass on the info to Linda.
---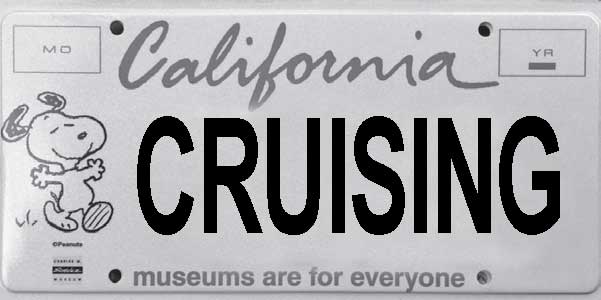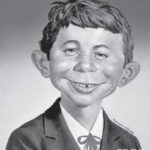 Snoopy Plates – These were a Christmas present for the Editor … (I'm waiting for the DMV to offer my hero on plates and then I will get them for my GMC Cabover). "No Worries"
---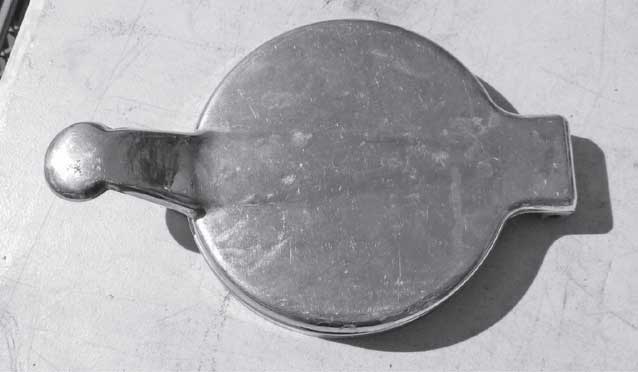 What the hell is this? John, from Carson City, was selling this at the Chevy Club Swap Meet. We both have no clue what it is. Send me your best guess for the next issue and you win our thanks. It's chrome and does not look like a gas cap … no numbers on it … could it be a sandwich, (pancake) press?
---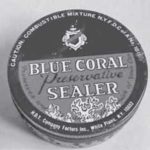 That's it for July 2017 – Except for this, This issue is the 24th Anniversary of the Cruisin' News. Yes, I'm shocked about the amount of time that has gone by. I still haven't put the Blue Coral Preservative Sealer on my 1961 Corvette, which was sold long ago.
---
Mark your calendar for our next Sacramento Classic Car & Parts Swap Meet, Sept. 9th, Saturday, at Cal Expo. See ad on page 7.
JS
Dings & Dents – July 2017